I'm taking a cake decorating class. did a cute one the other day in class, and tonight I tackled one for Matt's birthday.
Because I'm so proud of my work so far (even though I have a long ways to go!), I thought I'd do the "Flaunt It Friday" thing that I clicked to through a friends' blog.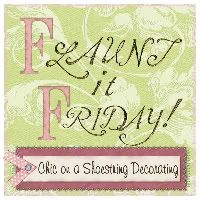 There's lots of cute ideas and inexpensive crafty stuff going on over at this blog. Go check it out!

Anyways, here's the cake I did in class, I thought it turned out cute, and the sparkles make it even cuter!
I tried to think of something great to do for Matt's birthday.... was kinda feeling stumped for awhile. Since we are such huge Disney and Disney cruise fans, I decided to go with that theme. We learned the 'piping gel transfer' technique in class and I gave it a try. Thought it turned out pretty decent!
More -break from Disney recaps- type posts this weekend, then on to the rest of the story!